Eating healthy doesn't have to be time consuming. If you're not good about dedicating time in the morning to eat, then this recipe is for you!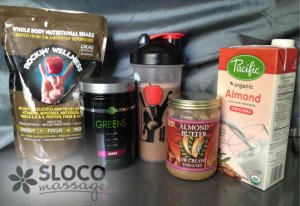 SLOCO Nutty Rockin' Greens Shake
· 1 scoop of Rockin' Wellness (nonGMO, Gluten Free, Vegan, Raw High Content Superfoods / Omegas from High Content Soils)
· 1 scoop of Berry Greens (Alkalizing, energizing, and detoxifying finely ground greens to get a full 8+ servings of veggies)
· 1 T of Almond Butter (High in fiber, calcium, Vitamin E and Omega 3s)
· 8 oz. of Almond Milk
Shake it up in a handy dandy blender bottle and run out the door! It is so good, you'll make time for breakfast every day.