Services + Pricing
Research has shown that inflammation is at the root of most illnesses. The emotional and physical strain our bodies are under spike cortisol levels higher and more often than our bodies were designed to handle. Our environment is also filled with neurotoxins, not only in our air and our food, but cleaning and personal care products. The body has an innate ability to heal itself, it just needs support.
That's why the services we offer are all geared to lowering stress hormone levels, reducing inflammation and assisting the body's natural detoxification system. When you're able to address those three areas, your body can do amazing things!
Book Now
Current Specials
The Sloco Difference
Luxury Linens
Padded + Heated Tables
Bolsters to Ensure Your Comfort
Professional, Skilled + Warm Therapists
One Customization Included
No Extra Charges for Deep Tissue
Steam Towels Included
Free Express Service
Enjoy one complimentary Express Wellness Service with your Massage of your choosing:
Express Infrared Sauna
Whole Body Cryotherapy
Dry Salt Therapy
Somadome Meditation
Red Light Therapy
Ear Seeds
(up to a $55 value)
One Customization Included
All massages include one customization of choice FREE, additional are $7 each:

Theragun Express Deep Tissue
Body + Mind Aromatherapy
Personalized Spot Treatment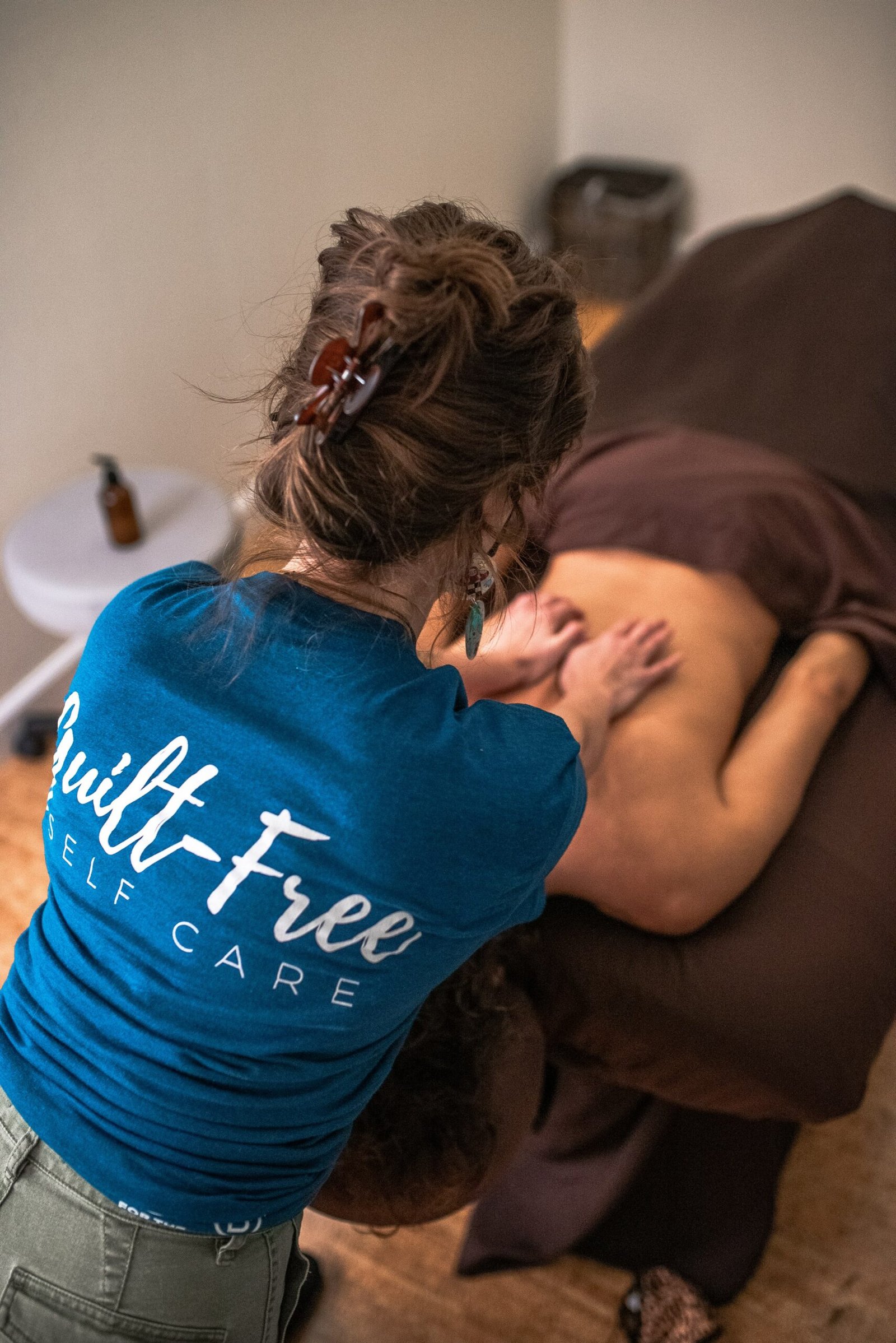 PERSONALIZED MASSAGE
This Personalized Therapeutic Massage is tailored to your needs using a blend of different techniques such as Swedish, deep tissue and sports massage. Feel your tension melt as our therapists follow your body's subtle cues, allowing you to experience deeply therapeutic bodywork that will enhance your wellbeing on many levels.
50 min.  $135    |    65 min. $155   |   80 min.  $175

All massages include one customization of choice FREE, additional are $7 each:
Theragun Express Deep Tissue
Body + Mind Aromatherapy
Personalized Spot Treatment
 With the purchase of each massage, you will receive one free Express Wellness Service (valued up to $55) available for redemption on a future visit, within 2 weeks of your massage.
+ CBD Massage   -   add $25
+ Cupping  -  add $20
+ Happy Hands and Feet - add $15

STONE MASSAGE
Experience a stone massage like no other. Unlike traditional hot stone massage, our Stone Infusion Massage uses the heat or cold of a special stone to melt tension and reduce inflammation while using the specially designed edges of the stone as a tool to work stubborn knots. The special stone provides continuous heat or cold allowing the therapist to keep the connection with you, rather than having to break to reheat stones. This massage is perfect for those who are looking for a little something special to help them relax during their session.
All massages include one customization of choice FREE, additional are $7 each:
Theragun Express Deep Tissue
Body + Mind Aromatherapy
Personalized Spot Treatment
50 min.  $160    |    65 min. $180   |   80 min.  $200
Personalize your Stone Massage:

Warm Stone:  Enjoy feeling the warmth of a stone melting away your stress and tension, allowing the therapist to become one with the stone to enhance your massage. 
Cold Stone: The feeling of cool stones will refresh you while causing the space in your blood vessels to shrink and soothe inflammation throughout your body. 
Fire + Ice: Experience best of both worlds, warm and cold stones, that will melt and refresh your muscular tension and inflammation leaving you feeling calm and blissful.
RAPID RECOVERY
Percussive Therapy quickly releases tension and soreness. It reaches 60% deeper into the muscle than the average massager, touching the body and then coming off of it 40 times per second.
$20 for 10 minutes
INFRARED SAUNA
Melt stress with a private full spectrum infrared sauna session. Customizable sessions allow you to focus on what's important to you, ranging from general detoxification, relaxation or heart health.
Express Sauna Session | 20m  $30.     –     Make it a 5 Pack of Express Sauna Sessions for $125
Relaxation | 40 min.  – $55
Detox | 40 min.  – $55
Cardio | 45 min.  – $55
Pure Sweat | 40 min.  – $55
Pain Relief | 30 min.  – $45
Age Defying | 30 min.  – $45
Weight Loss | 30 min.  – $45
Mix + Match any 5 Custom Sauna Sessions for $200
WHOLE BODY DETOX
Slip into a deep state of relaxation with a guided meditation while creating a platform for better health by facilitating your body's natural ability to detox from neurotoxins through this research backed ionic foot bath. For best results, this should be done in a series.
$65  or 5-pack General Whole Body Detox for $250
+ Targeted Detox: Heavy Metals +$15
+ Targeted Detox: Candida, Mold + Lyme + $15
LYMPHATIC DRAINAGE
The Ballancer Pro is an FDA approved medical device that delivers results! In fact, it is 60x's more effective than manual lymphatic drainage.
upper body $60  |   lower body   $120   |  whole body $180
packages are available
AMPCOIL JOURNEY
Every cell in your body needs to stay tuned to a specific frequency to function optimally. Metals, microbes, toxins, stress and many other factors can pull your cells out of tune. AmpCoil is a proprietary system that utilizes sound frequencies delivered via a pulsed electromagnetic field (PEMF) to help get your cells back into tune and resonate your body's natural frequencies in perfect harmony. When cells resonate at their optimal frequency, it creates balance leading to health and vitality.
Inflammation + Stress + Pain Relief
WHOLE BODY CRYO
It's like a silent disco in a walk-in freezer! Reduce inflammation, relieve pain and improve mood with this cold immersion therapy.
$55
SOMADOME MEDITATION
The perfect environment for enhancing your meditation experience that will make you feel like you've been transported to another world.
$30
COMPRESSION THERAPY
The go-to option for no-contact massage. Recover faster, relieve tension and move lymph with this "air" massage that allows you to focus on the legs, hips or arms.
$25
DRY SALT THERAPY
Breathe easy with the help of finely ground therapeutic grade salt to clear out your sinuses and your lungs, while improving immune function.
$25
RED LIGHT THERAPY
Recharge your cells and increase circulation for improved cognitive function and overall health.
$35
EAR SEEDS
Personalize your 24k gold "seeds" on specific pressure points on the ear to address different health concerns and be amazed by the results!
$25
ULTRASLIM
UltraSlim is the only FDA-approved device for immediate fat loss and skin rejuvenation. UltraSlim® works immediately, showing results before you leave the treatment room. 
Consultations are required so that expectations of this service are clear, and can be booked online. The $50 consultation fee will be waived with purchase of a package. 
Nurture
4 Express Wellness Services
$99/month
Elevate
10 Express Wellness Sevices
$199/month

Transform
30 Express Wellness Services
$299/month
All packages expire within 24 weeks of purchase. No exceptions.
Dry Salt Therapy [Halotherapy]
Ballancer Pro [Whole Body]
Mix + Match Sauna [5-pack]
AmpCoil Journey [intro 5-pack]
AmpCoil Journey [intro 10-pack]
Shared Wellness Experiences
Packages that include massage are NOT side by side, but allow you both to experience the same services during your visit.
Stress Melter
starting at $225 per person
50 min. Personalized Therapeutic Massage
AmpCoil Journey
Express Sauna
(can upgrade to a 65 minute massage)
Relax + Recover
starting at $255 per person
65 min. Personalized Therapeutic Massage
Somadome Meditation
Dry Salt Therapy
Normatec Compress
End together with an Express Sauna Session
(can be upgraded to a longer sauna for an additional cost)
Healthful Harmony
starting at $295 per person
65 min. Personalized Therapeutic Massage
Somadome Meditation
Dry Salt Therapy
AmpCoil Journey
End with an Express Sauna together
If you'd rather be side by side throughout the entire expierence, than the Wellness Pick Me Up for Two is for you!
Wellness Pick Me Up for Two
starting at $125 per DUO
All services are side by side in this package.
Ear Seeds
Dry Salt Therapy
Infrared Sauna OR Whole Body Cryotherapy
(Starting price includes express sauna and goes up from there.)