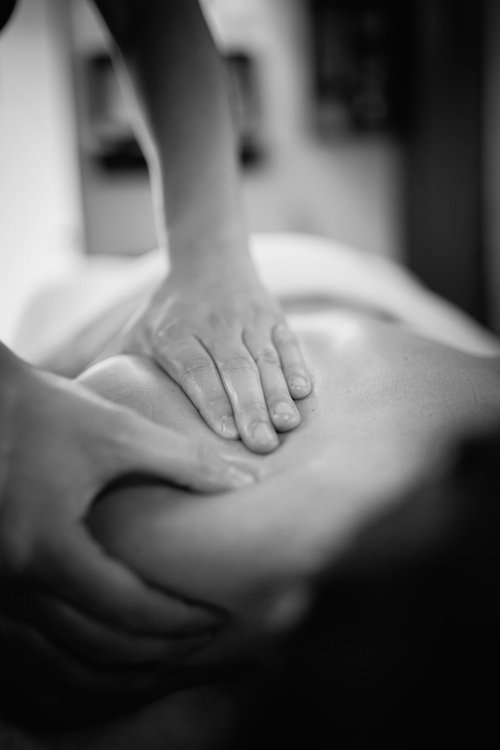 Personalized Massage Therapy in SLO
If you've ever found yourself wondering what style of massage your aching muscles need, then you should experience our signature Personalized Massage. Our guests are often in awe of the results of their massage, and float out of the therapy room feeling rejuvenated by the effects of this healing art.
Our Massage Therapists will treat you to an incredible massage that is not only relaxing, but truly therapeutic. Our Personalized Massage is tailored to your needs using a blend of different techniques influenced by Swedish, deep tissue, sports massage, trigger point and many other modalities, to provide effective strokes that make the most out of your time on the table. By using our intuition, we only use as much pressure as your body responds to. You may feel like you just worked out, but we'll never leave you feeling bruised and battered.
The Sloco Difference
Luxury Linens
Padded + Heated Tables
Bolsters to Ensure Your Comfort
Professional, Skilled + Warm Therapists
One Customization Included
No Extra Charges for Deep Tissue
Steam Towels Included
Free Express Service
Enjoy one complimentary Express Wellness Service with your Massage of your choosing:
Express Infrared Sauna
Whole Body Cryotherapy
Dry Salt Therapy
Somadome Meditation
Red Light Therapy
Ear Seeds
(up to a $55 value)
One Customization Included
All massages include one customization of choice FREE, additional are $7 each:

Theragun Express Deep Tissue
Body + Mind Aromatherapy
Personalized Spot Treatment
PERSONALIZED MASSAGE
This Personalized Massage is tailored to your needs using a blend of different techniques such as Swedish, deep tissue and sports massage. Feel your tension melt as our therapists follow your body's subtle cues, allowing you to experience deeply therapeutic bodywork that will enhance your wellbeing on many levels.
50m $135   /.  65m $155.  /   80m $175
PREGNANCY MASSAGE
Get the nurturing your body deserves with this session designed with pregnant women in mind. This massage uses a special bolster, allowing mom to lay face down while experiencing soothing prenatal techniques to alleviate tired muscles, increase circulation and lift spirits.
60m $135   /   75m $155   /   90m $175
STONE MASSAGE
Experience a stone massage like no other. Unlike traditional hot stone massage, our Stone Infusion Massage uses the heat or cold of a special stone to melt tension and reduce inflammation while using the specially designed edges of the stone as a tool to work stubborn knots. The special stone provides continuous heat or cold allowing the therapist to keep the connection with you, rather than having to break to reheat stones. This massage is perfect for those who are looking for a little something special to help them relax during their session.

Personalize your Stone Massage:

Warm Stone:  Enjoy feeling the warmth of a stone melting away your stress and tension, allowing the therapist to become one with the stone to enhance your massage. 
Cold Stone: The feeling of cool stones will refresh you while causing the space in your blood vessels to shrink and soothe inflammation throughout your body. 
Fire + Ice: Experience best of both worlds, warm and cold stones, that will melt and refresh your muscular tension and inflammation leaving you feeling calm and blissful.
50 min.  $160    |    65 min. $180   |   80 min.  $200
Massage + Wellness Services in SLO
Massage Therapy
personalized for you
Lymphatic Drainage
for beauty + immunity
Red Light Therapy
for cellular health
Whole Body Cryotherapy
reduce inflammation
Dry Salt Therapy
for happy lungs and sinuses
Somadome Meditation
calm the central nervous system
Normatec Compression
muscle recovery
 Infrared Sauna
de-stress and detox
AmpCoil Journey
get your body back in tune
BrainTap
brain entrainment
Chair Massage
for a quick fix
Localized Cryotherapy
for injury recovery
UltraSlim
for immediate fat loss
Ear Seeds
wearable acupressure
Whole Body Detox
create a platform for better health