Deep Tissue Massage in San Luis Obispo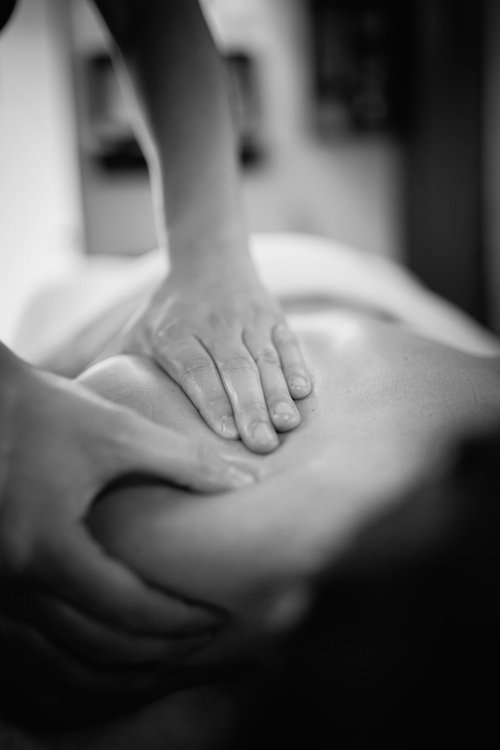 Deep tissue is just one of the techniques that can be offered during our Personalized Massage Therapy sessions.
At Sloco Massage + Wellness, our goal is to provide you with effective deep tissue massage that doesn't leave you bruised and battered. Our massage therapists alternate deep tissue techniques with relaxing strokes to allow your body to relax into the release. Experience deep tissue massage in SLO at its finest!
More time is needed to reach all the layers of muscle, so a longer sessions are suggested. 80 minute sessions are also recommended for first-time guests who have more than one area of focus. There are some contraindications for deep tissue work, so make sure if you have any health issues that you clear receiving deep tissue massage with your doctor.
Deep tissue massage generally uses similar strokes to traditional Swedish Massage, but the technique is quite different. In order to do effective deep tissue bodywork, the therapist has to work much slower and uses concentrated pressure on and around areas of tension.
It is critical that you communicate with your massage therapist if you find that the work causes too much discomfort. When your body is in pain, it will fight the work that the therapist is doing, and just cause more harm than good. It is important to make sure you work with a skilled massage therapist when receiving any bodywork, but especially deep tissue massage.
The Sloco Difference
Luxury Linens
Padded + Heated Tables
Bolsters to Ensure Your Comfort
Professional, Skilled + Warm Therapists
One Customization Included
No Extra Charges for Deep Tissue
Steam Towels Included
Free Express Service
Enjoy one complimentary Express Wellness Service with your Massage of your choosing:
Express Infrared Sauna
Whole Body Cryotherapy
Dry Salt Therapy
Somadome Meditation
Red Light Therapy
Ear Seeds
(up to a $55 value)
One Customization Included
All massages include one customization of choice FREE, additional are $7 each:

Theragun Express Deep Tissue
Body + Mind Aromatherapy
Personalized Spot Treatment