SLO Facials & Skincare
Who says you have to sacrifice your health for beauty?
Skin is our body's largest organ, and protects everything inside of us. Your skincare routine is equally as important as eating well, exercising, and sleeping. Regular facials can maximize your skin's barrier function, while also giving you a healthy glow!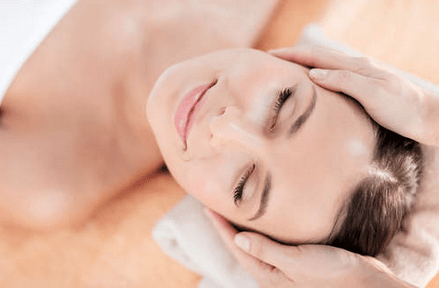 Give Your Skin What it Craves
Just like your body has cravings for certain foods, your skin has cravings too! Allow our natural skincare experts to find out what your skin desires, then create a custom facial and homecare regimen just for you.
A Custom Results-Oriented Experience
Allow our knowledgeable estheticians to design a facial based on your skins needs, which are ever changing due to factors like weather and lifestyle choices. You relax while the experts take care of the rest to help you get the best results possible.
Amazing Home Care for Lasting Results
Our goal is helping your skin to naturally glow, and a key part of making that happen is home care. Our estheticians strive to help you make your skin look its greatest by creating an effective regimen to use at home between facials.
Clean, Organic Skincare
We believe in using products that are not only good for you, but good for the environment. At SLOCO, we have partnered with Naturopathica to bring our guests results that they can feel good about. Naturopathica Facials at SLOCO can be tailored to your needs, whether you prefer for us to use only Eco-Cert Certified products, gluten free or vegan… we can do it all!
PURE RESULTS FACIAL
This customizable Naturopathica facial is designed to address inflammation, the primary cause of premature aging. The session begins with an exfoliating treatment to sweep away dead surface cells and impurities, followed by customized moisturizing complex, proven to improve the appearance of fine lines and wrinkles, radiance, smoothness and firmness.
60 min. 90 / build a customized facial with any of our facial treatment enhancements
FACIAL ENHANCEMENTS | $15
You can personalize your facial with any of these treatment enhancements for just $15 each.
+JADE & ROSE QUARTZ TOXIN FLUSH
Lymphatic drainage by gemstone rollers combined with Argan Plant Stem Cells provides dramatic results including improved tone, reduced puffiness and a boost in circulation that will make your skin glow.
+OZONE SKIN BOOST
Kill bacteria and prevent future breakouts with high frequency ozone therapy. Reduce the appearance of fine lines & wrinkles, fade dark circles & stimulate cell renewal for that healthy glow.
+VITAMIN C INFUSION
This high-potency skin rejuvenation treatment helps visibly refine the skin by stimulating collagen production and brightening the complexion.
+HERBAL ENZYME PEEL
Address skin imbalances such as fine lines, blemishes, hyperpigmentation and wrinkles the natural way.
+ BRIGHTENING Sweet Cherry
+ CLARIFYING Pumpkin
+ FIRMING Pear & Fig
+ SOOTHING Hibiscus
+RETIONOL RENEWAL + MICROCURRENT
Increase hydration, smooth and renew mature skin with this concentrate designed to deliver accelerated results with hyaluronic acid & vitamin c.
+KOMBUCHA PROBIOTIC MASK
This intensely hydrating sheet mask made of a kombucha culture to help create a healthy microbiome to fight inflammation and protect against environmental pollution.
HORMONE BALANCING FACIAL
Designed to help skin recover from hormonal imbalances by using the healing power of aloe, chamomile and geranium. Customized with an herbal enzyme peel for teens or those with mature skin in need of rebalancing.
75 min. 120
MOISTURE DRENCH FACIAL
Nature's cure for thirsty, moisture-deprived skin. This hydrating facial immediately replenishes the skin with deeply hydrating botanical blends. Our sensorial Soothing Hibiscus Enzyme Peel smooths and calms stressed skin. A nourishing facial massage utilizing our Gotu Kola Healing Balm leaves skin radiant and protected from harsh environmental elements.
75 min. 120
AGE DEFYING FACIAL
This regenerating treatment uses a Plant Stem Cell Booster Serum to slow cellular aging and plump and firm the skin. This natural face lift treatment includes an ultra-hydrating hyaluronic cream to help reduce fine lines and wrinkles. For maximum results, this facial incorporates ultrasonic and microcurrent technology that increases product penetration and stimulates collagen renewal.
75 min 140