Sorry, we have discontinued these products as part of our in-spa offerings.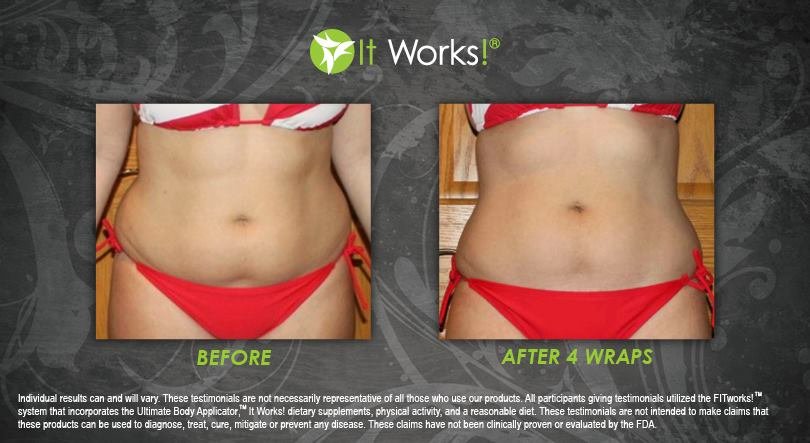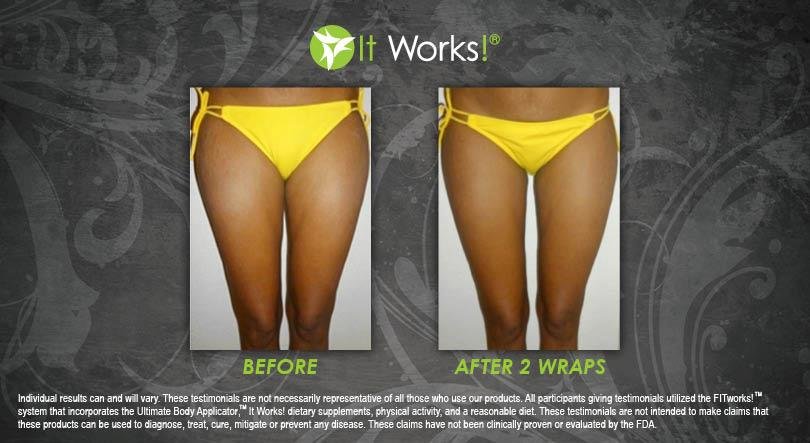 Who shouldn't wrap?
Approximately 90% of people see results after just one body wrap, however the wraps may not be effective on women expecting their period (due to natural hormonal bloat), people taking steroids, or people with thyroid issues. In our experience, we have seen toned, tightened and firmer skin after every wrap. Wraps are not to be used on women who are pregnant or nursing.
How can I maximize the results from my wraps?
It is key that you increase your water intake. You should drink at least half your body weight in ounces of water right after your session and for each day for the next 3 days. (If you weigh 150 lbs., you should drink at least 75 ounces.) You should also avoid coffee, alcohol, energy drinks containing sugars & caffeine, or anything with artificial sweeteners, especially for the next 72 hours after wrapping.
If you really want to jump start your healthy weight loss routine, you will have the opportunity to purchase some products that have already worked wonders for thousands of others!
Will I need to shower after I take the wrap off?
No. The wrap is like a lotion, so it just gets rubbed into your skin. As a matter of fact, you will want to avoid showering for a several hours after you take the wrap off to ensure that the solution is absorbed into your skin.
How often can I wrap?
The botanical formula keeps working for 72 hours after the wrap is applied. That being said, we recommend waiting at least 3 days after your wrap.
How long do the results last?
You'll be happy to know that the results you will see from using the wrap aren't temporary, unlike many other body wraps that simply produce results through water loss. The Ultimate Body Applicator helps tighten, tone, and firm in a manner that produces lasting results, without water loss. As is true with any weight loss or body contouring treatment, you can reverse the results you see from the Ultimate Body Applicator with poor eating habits and lack of exercise.
Can I wrap more than one area at a time?
We only wrap one area at a time because it will give you the most dramatic results! For leg and arm applications, we cut a wrap in half and use half on each limb.
What is an Ultimate Body Applicator?
The It Works! Ultimate Body Applicator which we use for this treatment is a body-contouring product designed to tighten, tone and firm any area it's applied to. The non-woven cloth is infused with a powerful, botanical cream that helps reduce the appearance of cellulite and stretch marks.
Isn't It Works! a direct sales company?
Yes, they are, but please know that you will never be under any pressure to sign up for anything at the spa. We believe in a few of their products, and like to recommend them to people who they can help. You can enjoy their products without any commitment by trying this service in the spa. If you'd like to purchase the products and save money, we will happily show you how, but there will never be any pressure to do so!
At SLOCO Massage, we incorporate the Ultimate Body Applicator in our body wrap treatments. Most spas use messy formulas, wrap you in foil or saran wrap, then make you sweat to see inch loss results they promise… but not us!
Originally a $300 spa treatment in Europe, the Ultimate Body Applicator formula uses a botanically based blend that reduces the appearance of cellulite while improving skin's texture and tone in as little as 45 minutes. Even better, you'll continue to see progressive results over the following 3 days.
Approximately 90% of people see results after just one body wrap. Sure, one wrap is a treat, but a set of four is a TREATment. We designed our service to allow you to try one wrap before committing to a full treatment which retails at $99. (Feel free to ask us about special pricing, if you'd like to save $40 on each set of at-home treatments!)
SLOCO Massage is a big believer in making healthy decisions. These wraps will give you the instant gratification you need to keep up all the hard work from day to day. We ask that you use these wraps as a healthy weight loss tool, not as the only solution to your weight loss goals.
Check out our frequently asked questions section below to help make sure you're prepared for this transformation!
Why wait?
Tone, tighten and firm for less when you become an online loyal customer.
See results that will blow you away with this simple wrap that is easy enough to use at home! Want some guidance on the best wrapping methods? No worries. Place an order on our website, and when your wraps arrive, we'll wrap you at no extra cost.